Staying in a villa you will enjoy the essence of freedom on holiday: a private home where you can immerse yourself in the full experience of beauty and culture and enjoy your family and friends. 
When you are on holidays you create memories, experiences that are often a huge deviation from day-to-day life. For a short period of time you will take a break from your routine and dedicate your time with your family and friends  and the perfect home-away-from home will make it even better. You will immerse yourself in a different culture, different routine and you will have so much inspiration after all.
Here at Haute Retreats we think there is never a bad time to go on holiday. Depending on the season we create and suggest the perfect destination based on the activities and the experiences our guests would like to be immersed. They can choose from the best beaches, the best ski slopes …or relaxing by a swimming pool surrounded by the Tuscan hills or going and visit a lovely town in Umbria, or if it is the right month go truffle hunting, followed by a truffle cooking class and wine tasting… and so much more.
Creating new memories by experiencing exciting places, meeting people with interesting things to share about their lives, can and should be anytime of the year.
The most difficult part is where at any given time. Explore Haute Retreats to find the ideal luxury holiday destinations for you to escape towards new places and unforgettable experiences or contact us info@hauteretreats.com
EXPERIENCE MARRAKECH'S MEDINAS
Known for the pleasant amalgamation of colour, light and aroma Marrakech boasts Moroccan patterns splashed with bright colours and red sandstone walls that change tones with the hour of the day line the busy streets and markets of the medina.
Experience the culinary heritage with the scents of herbs, spices so intense depending in which part of the city you are. It is a beautiful destination, and one in which you can truly lose yourself to new experiences and a distinct culture.
When to go
Luxury Morocco holidays are far more comfortable in the spring or autumn, when temperatures have cooled somewhat. During the months of March to May and September to October, the temperature averages a comfortable 25°C, making it perfect for exploring the labyrinthine city streets. Avoid the sweltering summer scorch and the colder months of winter to make the most of this trip.
Not to Miss
This ancient Moroccan city has a lot to offer. Saunter through the medina and peruse the souks, or marketplaces, allowing the sensory joy of the place to wash over you, as you get delightfully lost in the maze-like walled streets. Head to the Jemaa el-Fna square marketplace, which is a UNESCO world heritage site, and give in to the smells that float from nearby food stalls by grabbing a bite to eat. Your luxury Marrakech holiday would not be complete without a visit to Musée Yves Saint Laurent. The museum is dedicated to the renowned designer and is an ode to his love of Marrakech and its colours, textiles and patterns. For the best textiles, leather and silverware wend your way through Souk Semmarine, where haggling is the status quo.
Where to stay
Villa La Brillante is located a few steps from the Bahia Palace, a jewel of Moroccan cultural patrimony, La Brillante benefits from a rare and privileged location in the Medina. Close to the main historic sites, the hotel is easily accessible from a nearby parking lot.
The four rooms and two suites open onto a modern and contemporary patio, which is the ideal place for sharing moments or relaxing in the heated pool and Jacuzzi.
La Brillante also features two restaurants and a lounge bar.
Explore Haute Retreats array of luxury homes in Marrakech. Explore our luxury villa rentals and riads in Marrakech and book a villa through us to ensure that your holiday is taken care of.
SWIM IN SAINT BARTHÉLEMY'S BLUE
Considered one of the most luxurious destinations, Saint Barts is where the soft white sand slopes into the shallows of the turquoise blue sea. During your flight and approaching the island you could almost feel the unitary plant adrift in the ocean, where the deep green Caribbean vegetation is broken by orange rooftops and shoreline. When you choose to experience a St Barts Holiday you will immerse yourself in natural wonder and artificial pursuits.
When to go
If you are seeking to stay in St Barts, the time frame to visit this island in good weather is broad. You can choose to have your luxury breaks in Saint Barth most of the year, but we suggest the months from May to November so to avoid the high crowded season (end of August, first weeks in September be cautious for the hurricane season). The most popular and crowded months are from December through April.
Not to miss
There are 16 beautiful beaches in St Barts and not to be missed. The beaches in St Barts all have in common the white sand from where to tan and its perfectly turquoise water will invite you to swim, snorkel, paddle board…etc.. Plunge into the serenely shimmering waters of Grand Cul de Sac beach, one of the island's most beautiful beaches, or feel energised in the vibrant atmosphere of Nikki Beach.
When in St Barts you can also enjoy to do some shopping, from cigars to makeup, from fashion to food. With no sales tax, the island is an excellent place to get your shopping done. For dinner, go to the trendy L'Esprit on Saline Beach and enjoy the ever-changing menu of fusion cuisine.
Where to stay
We have a beautiful selection of luxury St. Barts villas for rent across the island. Explore the variety we offer on this picturesque island, and chose a villa to suit your needs and wishes.
Villa June Welcome to Villa June, a new villa recently built in Corossol with spectacular views of the Corossol and Gustavia Harbor in St. Barts.
Explore Haute Retreats array of luxury homes in St Barts. Explore our and book a St Barts Villa through us to ensure that your holiday is taken care of.
HOLIDAY IN PUNTA MITA
On the Pacific coastline of Mexico's Nayarit state lies a small, upscale resort community with a fast-growing population. A Punta Mita holiday with its dreamy beach-and-jungle setting with plenty to see and do has drawn increasing numbers of remote workers, including many entrepreneurs, in recent years.
Punta Mita is a 1,500-acre private peninsula and a gated, high-end retreat with relatively accessible luxury property prices and an emphasis on rest and relaxation and outdoor pursuits. It offers ideal conditions for remote workers seeking more picturesque surroundings in which to work. It's safe, modern and immersed in nature, plus it's a short flight from the West Coast of the U.S..
When to go
Peak season typically starts in December and ends in the middle of March, as wealthy individuals plan their winter vacation in the Riviera Nayarit area. Over the last two decades, this region – which includes cities such as Sayulita, Nuevo Vallarta, Bucerias, and Punta Mita – has grown to new heights.
Not to miss
Punta Mita is a great place to relax on the beach and not do much else, but there is plenty to keep residents who want more occupied.
At Club Punta Mita, there is the 72-hole, Jack Nicklaus Signature Punta Mita Pacifico Golf Course set on the northernmost point of Banderas Bay, a tennis center, and residents' beach club. Punta Mita's other Jack Nicklaus Signature championship par-18 course is called Bahia and offers pars with fairways meandering through the St. Regis Resort, El Encanto, Porta Fortuna and La Punta Estates communities. Nicklaus's Pacifico course features the famous "Tail of the Whale" hole—an optional part of the course that requires golfers to play their first shot from an onshore tee box to an island green located on a natural rock formation.
Punta Mita has several pristine beaches. The village itself sits on the Banderas Beach which is a paradise for beach lovers. You can enjoy sunbathing lying on the golden sand and also take part in exciting watersports. You must also explore other beautiful beaches like the Bucerias Beach, Hidden Beach and the La Lancha Beach during your stay in Punta Mita.
Where to stay
There are about 20 communities in the resort, including branded private residences, estate lots, golf and waterfront condos, and hillside villas built in a modern and contemporary style with Mexican and Mediterranean influences, according to LPR Luxury Punta de Mita.
Many homes feature high-end amenities and stylish interiors. For example, the Four Seasons private villas have private infinity-edge plunge pools, gourmet kitchens and antique Mexican wooden doors, among other features.
View our extensive selection of luxury villa rentals in Punta Mita to inspire your next trip.
Casa Tau is one of our personal favourites. Casa Tau the perfect destination for a large family, family reunion, golf trip, corporate retreat, anniversary celebrations and a great friends vacation, located on the sandy beachfront of the prestigious Punta Mita Community in Los Ranchos, Mexico.
The twelve en-suite bedrooms accommodate up to thirty guests. The spacious indoor/outdoor living areas are designed to accommodate large groups. Staying at Casa Tau you will have access to luxury amenities and facilities, from the amazing beach right in front of the villa to the tennis, golf, shopping, dining and nightlife.
Casa Tau is decorated with soothing earth tones, warm wood accents, elegant and warm creamy white walls and an impressive hay-thatched roof. What we love about this luxury mansion is the open-air layout that will give you that relaxing atmosphere.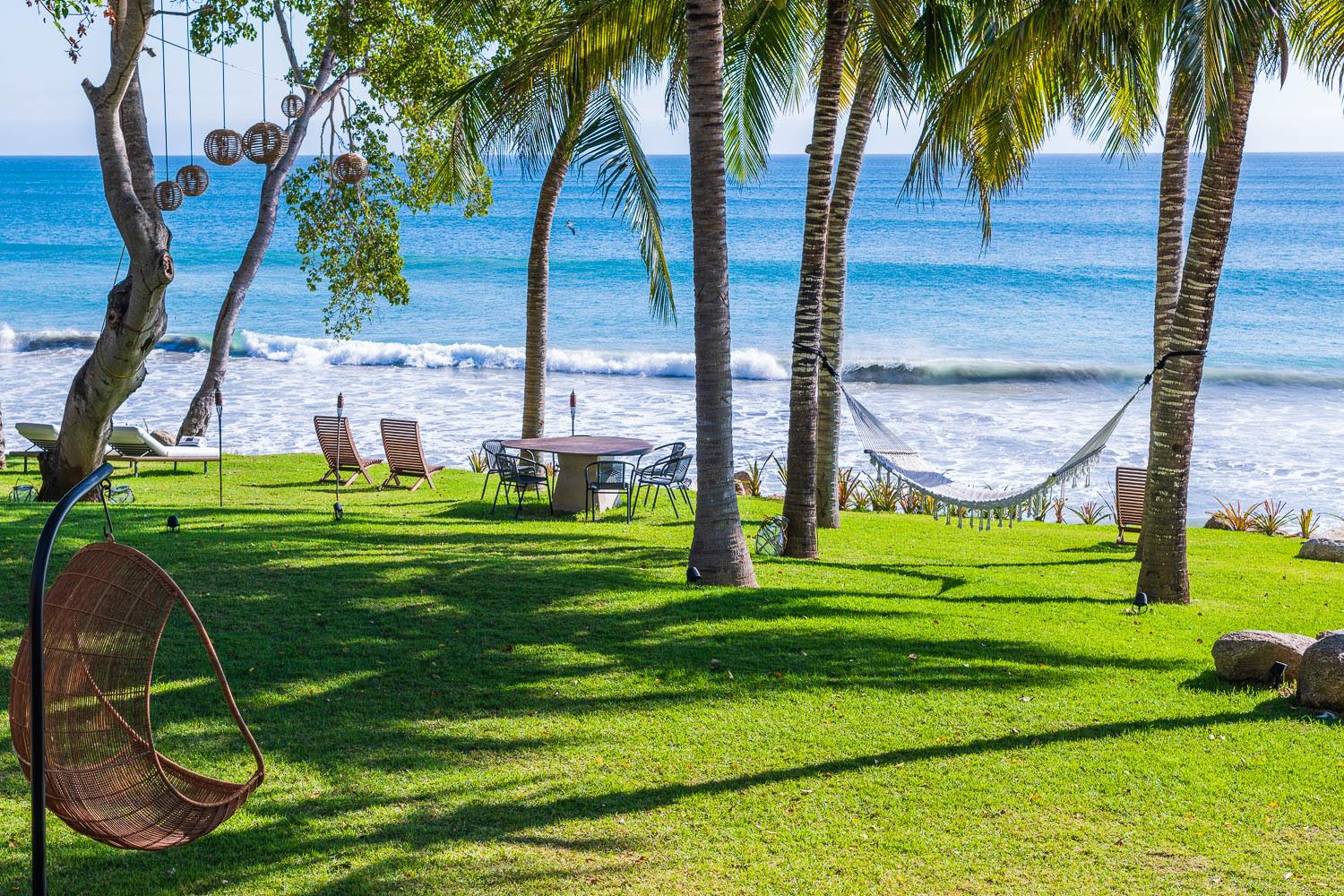 Visit Haute Retreats to inspire your next luxury holidays and book a dream villa in one of these incredible destinations.