Last updated on November 9th, 2023 at 03:11 pm
A quiet, spear-shaped peninsula north of Puerto Vallarta was turned into a private, gated resort and residential community in 1999 – at that time a novel concept. Since than, the 1,500-acre coastal haven has grown and includes two luxury resorts (from Four Seasons and St. Regis), several neighborhoods of multi-million-dollar homes, and amenities like residents' beach clubs, a tennis center, and two Jack Nicklaus Signature golf courses.
It is a place where you will find discretion,  security, and maintaining a low-key vibe—you can ditch the car and drive your golf cart everywhere—Punta Mita has become a favorite with everyone from celebrities, entertainment industry execs and tech billionaires (Bill Gates bought 48 beachfront acres, and the Four Seasons Resort, in 2014) to honeymooners, families, and downtime-seeking CEOs. Basically, anyone looking to enjoy—or own—a bit of seaside luxury will find it here.
But while, twenty years after launching, the development has earned this loyal clientele, it's not resting on its laurels.
WHEN TO GO
The Punta Mita's tourist season differs slightly compared to Los Cabos, as it's not as popular with spring breakers compared to the latter. The city provides a more chilled out vibe, as private beaches and authentic taverns dot the tropical landscape. Peak season typically starts in December and ends in the middle of March, as wealthy individuals plan their winter vacation in the Riviera Nayarit area.
March to June is considered to be shoulder season, which is followed by low season. Similarly to Los Cabos, the number of foreigners typically dwindle during this period until it kicks back up during late autumn.
Many wealthy individuals often book luxury villas in the prestigious El Encanto community, which often hosts superstars and foreign dignitaries.
RELATED The Villa Experience:  Why Casa Tres Soles is the Perfect Getaway in Punta Mita
Home to St. Regis and Four Seasons resorts, Jack Nicklaus golf courses, dozens upon dozens of amazing restaurants, and some of the loveliest scenery and beaches imaginable. That is why so many discerning travelers are making it their destination of choice, and to reach this area is quite simple.
BY AIR
Most travelers will opt to take the most straightforward and simple route to Punta Mita, which is to fly into Puerto Vallarta and then drive or book a car. They will arrive at the Gustavo Diaz Ordaz International Airport in Puerto Vallarta. This is less than an hour south of Punta Mita. Travelers can arrive via almost any airline that they choose, since the Puerto Vallarta airport serves most major American and international carriers.
Guests of Haute Retreats can arrange for shuttle service to the village, with options for airport greeting readily available. The ride takes you north along the coast and to the outermost tip of the peninsula to the village and resort areas. Some villas are also staffed with drivers and a vehicle will already be available to escort you from the airport to your luxury villa for the duration of the holiday.
BY SEA
The Marina Vallarta may also be an option for those who wish to sail or arrive by water. There will have to a private car or rental car arranged to transport guests from the large marina to Punta Mita. Alternatively, some guests may have a driver on their staff and simply need to discuss their arrival time. The distance is less than 30 miles and will require less than an hour of travel time.
Once in Punta Mita, a car is helpful in reaching the different destinations, even when booked in a villa within one of the resort or village properties. Some of our villas provide access to St. Regis or Four Seasons resort facilities, and so it is beneficial to book time with a driver to reach these amazing properties and facilities.
Book your private jet 🙂
When you book your jet charter through ONEflight International, they will set you up with the choice of helicopter or luxurious aircraft to whisk your guests off to whatever location you choose.
The choice is yours when it comes to the perfect aircraft to use for your business or private guests. With just a few questions regarding the number of guests and the type of trip you are planning, we can help you select the right travel arrangements.
Nestled along Mexico's Pacific seaboard, Punta Mita is a realm of awe-inspiring natural splendor. Its magnificent mountains that proudly reach for the skies are a sight to behold. This picturesque coastline is a magnet for a diverse array of individuals, drawing in everyone from high-profile celebrities to top-tier business personalities. The resorts here stand unparalleled, offering an enticing blend of seclusion, opulence, and pure tranquility. Here, the climate is just right, featuring pleasant temperatures in the low 80s during the day and a comfortable low 70s when night falls. A visit to this portion of the Mexican Pacific will treat you to stunning vistas and an encounter with rich wildlife. Mexico's West Coast serves as an exotic and tranquil haven, making it an ideal spot for those seeking to escape and unwind in serenity.
RELATED Sunday Snapshot: Casa Tau, Punta Mita, Mexico
The Best hotels are the Four Seasons and the St Regis.. but if you want your privacy you should book a private luxury villa. Our selection of villas in Punta Mita includes the best estates in the area.
Tuna Blanca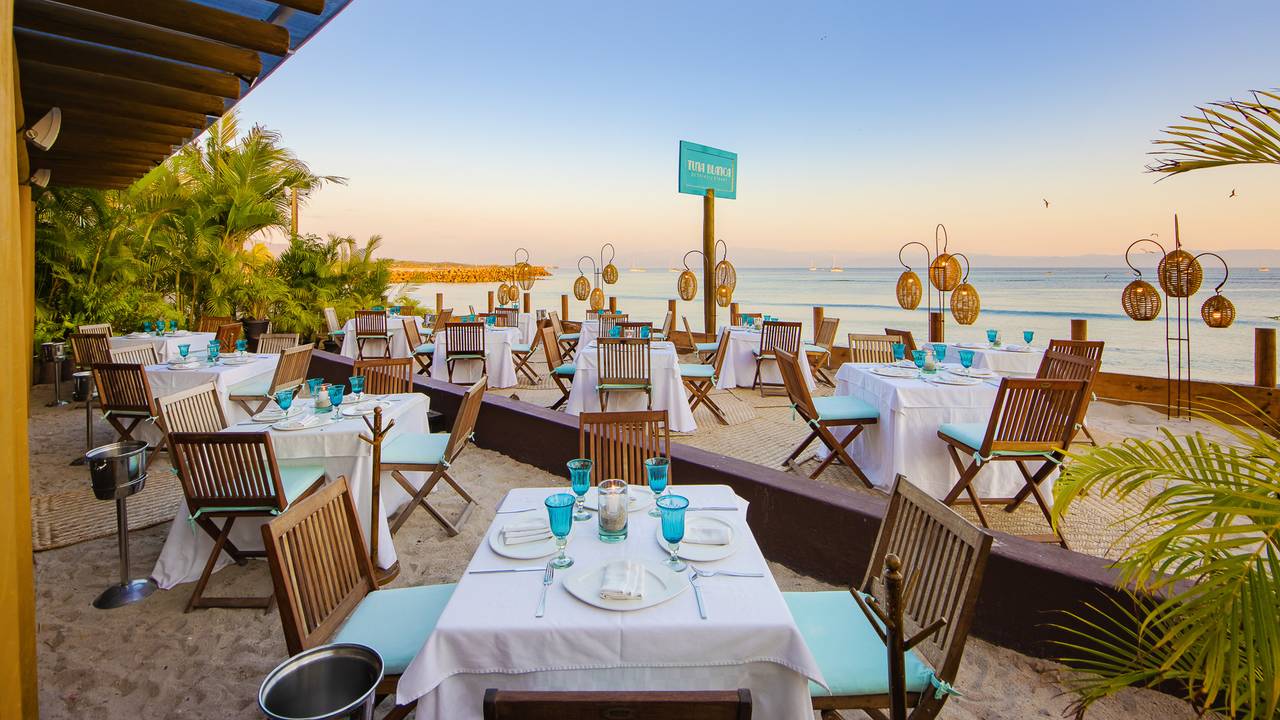 Chef Thierry Blouet at Tuna Blanca will give you the most memorable culinary experience in Punta Mita. The extensive menu includes favorites from Mexico as well as creative and contemporary interpretations along with delicious wines and creative cocktails to complement the food. We recommend trying their shrimp temazcal served with flaming raicilla, their bahia azul tuna toast and their delectably grilled octopus.
You can choose to dine in the elegant indoor restaurant or soak up the sea breeze under their palapa roof by the beach and enjoy your meal. Reservations are strongly recommended as spots fill up quite quickly.
Carolina
Carolina restaurant located in the St Regis resort, is truly one-of-a-kind. Elegant and exotic, a restaurant where they serve you traditional and contemporary dishes from award-winning Chef Miguel Soltero and has been honored with the prestigious AAA Five Diamond Award.
A locally inspired foodie destination featuring seasonal ingredients and menu items that reflect the resort's laid-back vibe. You have the option to enjoy a four course tasting menu or select from a variety of other options such as fresh apple and tejuino salad, succulent charbroiled lobster and delicious steamed tacos. The restaurant also conveniently features a private dining room for larger groups of up to 16 people. It is open for dinner services from Thursday to Sunday from 6:00 pm to 10:00 pm, make sure you call ahead of time to reserve your spot!
Casa Teresa
Located just 5 minutes from the Four Seasons and St. Regis Resort, Casa Teresa is set on a beautiful patio surrounding the main house of the owners. It is a family-style Italian restaurant offering up delicious and authentic homemade Italian food and a cozy, luxe atmosphere. The staff is friendly and attentive and strives to make you feel right at home.
Casa Teresa's menu offers an ever-changing selection of the best local ingredients, creating a constantly thrilling experience for your taste buds. This restaurant is a great place to relax and unwind with friends and family.
Lobster Paradise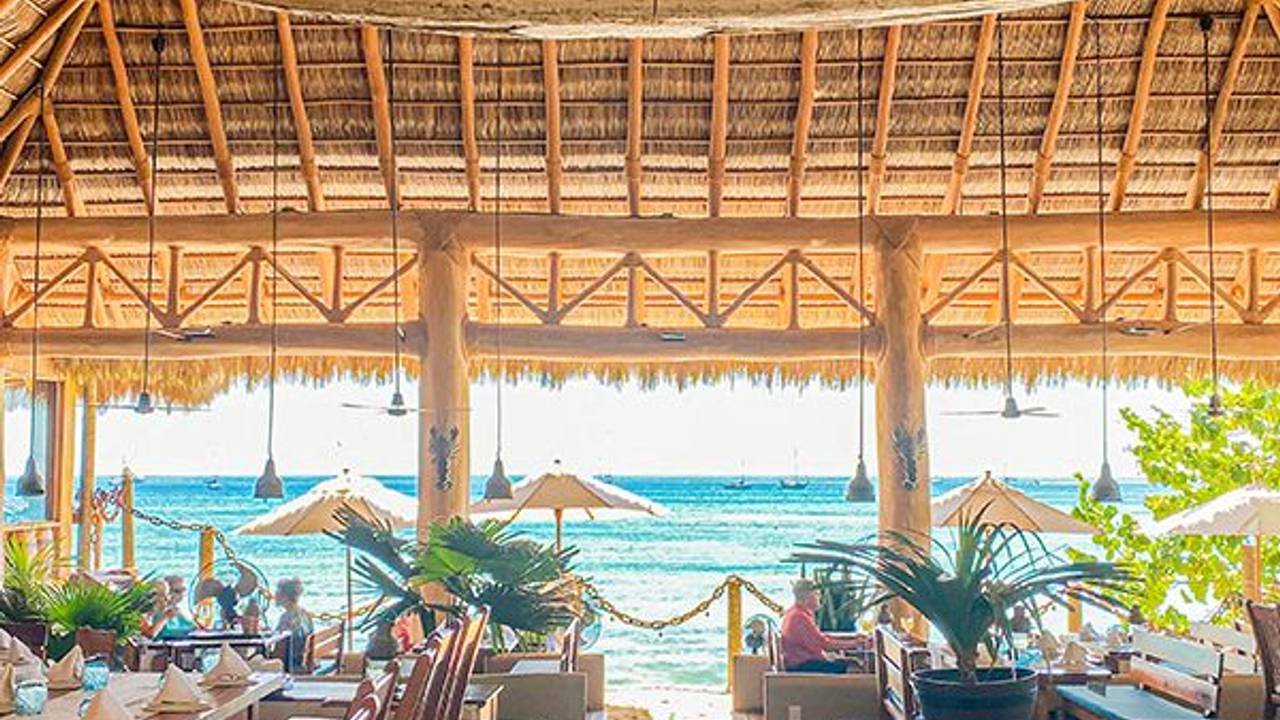 Overlooking the turquoise waters of Punta de Mita, Lobster Paradise is a top notch seafood restaurant.  Nestled on a beautiful beach, this restaurant offers impeccable service with an emphasis on fine dining.
At Lobsters Paradise, the quintessential tropical taste of the sun shines through in every meal. All ingredients at this beachfront restaurant are carefully selected and the menu features only the world's best seafood and prime steaks. Chow down on traditional Mexican dishes such as coconut shrimp, seafood ceviche, burritos, tacos and of course, succulent lobster.
There's a reason why this restaurant is popular with locals and tourists alike. Not only do they serve amazing seafood, it's also known for its attentive service.
Bahia Ocean Grill
Bahia Ocean Grill is located within the Punta Mita Four Season Resort. It is a laid back and sophisticated setting where you will taste fresh seafood.
Its prime location is only steps from the ocean, providing breathtaking views of the sun sparkling off the water, the perfect spot for a romantic sunset dinner experience.
You can choose from ocean to table seafood or a variety of succulent meats seasoned with vibrant Latin marinades. From the fresh ingredients to signature sauces and spice blends, you can taste the love in every bite. Some notable favorites include fire grilled flatbread with goat cheese, heirloom tomato & burrata salad, the chef's signature prime rib burger and the Bahia seafood sampler for two!
Sufi
Overlooking the Bay of Banderas, Sufi Restaurant combines the foods and flavors of Mexico and the Mediterranean to form a truly unique dining experience. While the restaurant is part of the private Playa Fortuna Beach Club, it welcomes all guests who want to enjoy a delicious meal in a beautiful setting. During the months of December through April you might even be lucky enough to catch a glimpse of a migrating whale out in the distance, right from your table!
This elegant restaurant has a menu with a variety of seafood, meats, and vegetarian options. Their famous tortilla soup and red snapper al pastor are must-tries!
Rosa Mexicano
Rosa Mexicano is a laid back, beachfront restaurant that brings the flavor of Mexico to life in an effortlessly elegant but casual way. Known for its warm and inviting ambience, live music and the staff who are not only friendly but truly attentive ensuring that everything during your dining experience is perfect.
If you want to taste the traditional Mexican Food, Rosa Mexicano prepares freshly made salsas prepared table-side with roasted roma tomatoes, onions, jalapeños, and cilantro, served up with some crispy tortilla chips. Feast on some of their other dishes such as traditional tortilla soup, grilled octopus, delicious carnitas and tasty fajitas. This restaurant is also known for its refreshing cocktails and beers. The margaritas are perfectly blended, and the tequila is served from the bottle.