Last updated on October 3rd, 2023 at 12:27 am
Ready to book your Tulum Beach Villa?
Tulum, Mexico, located in Quintana State in the Yucatan Peninsula, has everything you need for an epic Mexico vacation — it's no wonder Tulum tops so many Mexico travel bucket lists. You're in the right place to discover the 10 most stunning Tulum beachfront villas and homes for your trip!
Now, just because you're traveling to an exceptional place like Tulum, doesn't mean you shouldn't get your ducks in a row. The truth is, where you stay can make, or break, your Tulum trip. Booking the perfect beachfront villa will set the tone for the perfect Tulum vacation — and you're about to do just that!
Haute Retreats selected 10 beachfront villas in Tulum where to enjoy your next vacation
Aldea Canzul Estate (3 villas located side-by-side)
Within the Aldea Canzul Tulum Estate, you have three separate villas — Casa Chukum, the main house, Casa Chakte and Casa Chechen. In total, Aldea Canzul can accommodate up to 23 people, but if you don't need space for that many, you can just rent the main beachfront villa, Casa Chukum.
Aldea Canzul is located right in the middle of it all, just off world famous Tulum Beach Road. You're steps away from everything — bars, shops, spas, the best restaurants in Tulum, and more. The house, however, is far enough away to escape to complete peace, quiet and tranquility on your near-private beach.
Enjoy the ultimate luxury property on Tulum Beach, where modern architecture blends with warm, rustic elements, a private pool, concierge team from 9am-10pm, security 24/7 and breakfast prepared by your private chef each morning.
The stylish house provides privacy, comfort and an unmatched sense of space and tranquility. Located between the jungle and the ocean, you're just steps from both the white sands and turquoise waters of the Caribbean Sea, and also within walking distance of the famous Tulum nightlife in the Hotel Zone.
Even with a swimming pool that is almost a piece of art and a plunge tub on the rooftop terrace, at Casa Kati Kaan, nature steals the show. Located 3.5 miles into the Sian Ka'an Biosphere Reserve, this cozy eco-conscious villa is a tropical utopia.
The 3-bedroom villa was built for guests to relish the landscape. Not only does it have a 100-meter private beachfront in a vibrant nature reserve, but it blends in with its surroundings. The open-plan living spaces fuse into the spectacular deck and pool, where the beach and its coco palms become part of the architecture. A 2.5-acre estate embraces the house, itself tucked between the Caribbean Sea and the beautiful Campechén Lagoon.
While the home's interior design is remarkable, one finds the best spots outdoors: the dining table on the deck, the rooftop terrace with its plunge tub, the lounge by the pool, and the sunbed cabana.
Luxury Zorba Villa is perfect for groups and families and boasts incredible views of the beach and a private seaside pool in Tulum, Riviera Maya.
The high ceilings, curved walls and reclaimed doors give this expansive seaside Villa a luxurious and romantic feel. The newly renovated home opens up to a stunning lanai with comfortable lounge furniture, a private pool, and an unparalleled connection the sea.
The spacious kitchen and dining area enjoys plenty of counter space for preparing meals and pull up stools for casual dining and socializing. The custom wood dining table accommodates 12.
The Villa features 5 suites. Two of the upstairs bedrooms have king sized beds, ensuite bathrooms with showers, doors that open to a private upper deck, and stunning sea views.
Welcome to Casa Kevali, an amazing new beachfront villa in Soliman Bay, Riviera Maya, named after Kevala Jñana meaning having supreme knowledge according to the ancient Indian religion, Jainism. Jains practice nonviolence towards every living being and Kevali represents a path towards peace.
Casa Kevali surely lives up to its name. This 6 bedroom, 5.5 bathroom luxury villa is situated in a beachfront location in Soliman Bay, Tulum. It's absolutely perfect for water and nature lovers as the villa is surrounded with ocean on one side and lush jungle on the other. You can catch spectacular views of both the sunrise and sunset from the rooftop.
Just imagine the wooden boardwalk that leads you through jungle to sunbeds by the sea at this rustic villa in the pristine ecological preserve Sian Ka'an.
Casa Yakunah is an amazing contemporary luxury villa with 100 meters of breathtaking private beachfront, perfect if you are looking to disconnect or disconnect.
It is a villa that is one of the most picturesque and romantic homes in all of the Sian Ka'an Biosphere Reserve and Riviera Maya.
Casa Ixchel is a wonderful villa located between the Caribbean Sea and the lush jungle of Tulum, a truly impressive and breathtaking estate.
With 6 spacious suites, the villa boasts a pool, Jacuzzi, gym, massage area, spacious indoor & outdoor lounges, state-of-the-art kitchen, TV room and perfectly manicured garden, as well as a thatch-roofed dining and lounge area right on the white sand shores of Tulum, Mexico.
Minimalistic decoration designed by architect Alberto Schutte offers an open nature living area, providing serenity and peacefulness for your entire stay!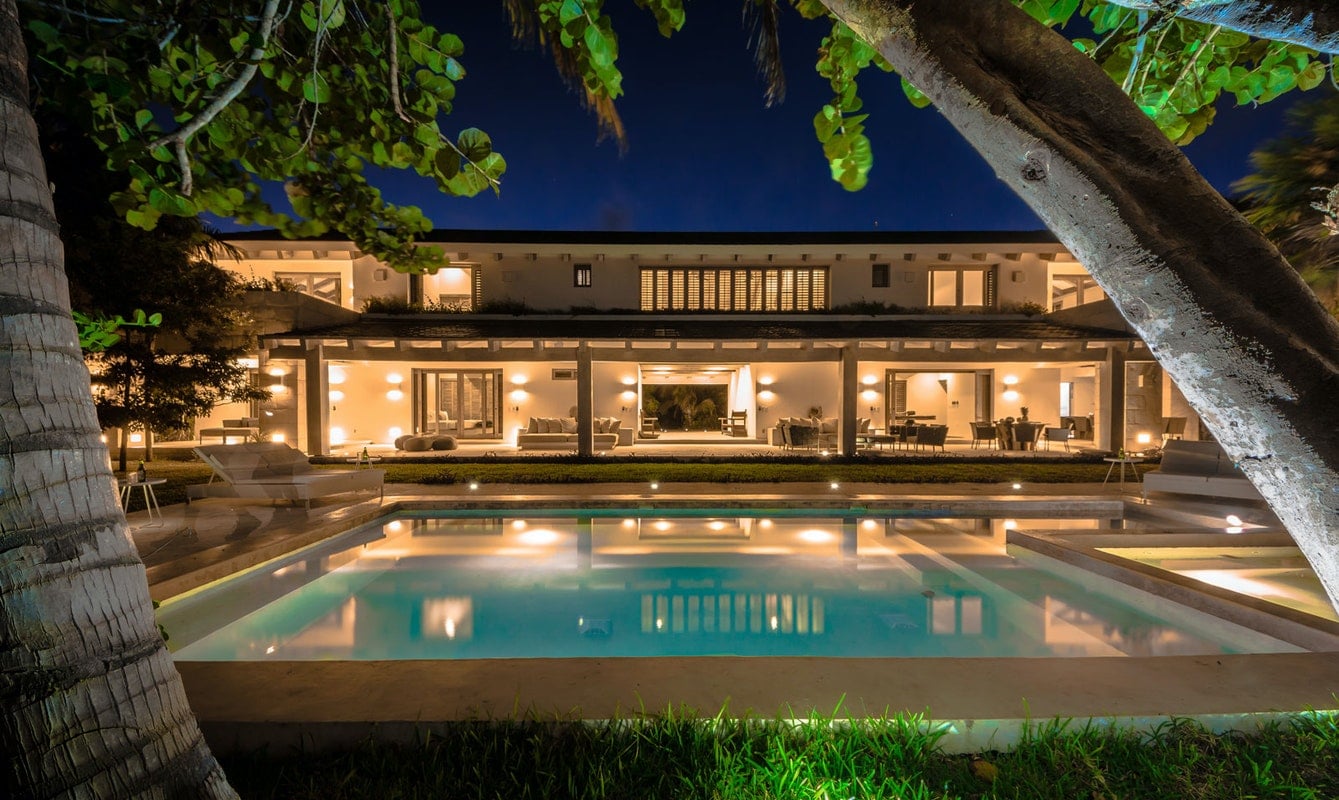 Set on one of world's most incredible beaches, right inside what is known as the National Park of Tulum, within walking distance of the world famous Mayan ruins, is this magnificent brand-new beach mansion, with the finest white sandy beach and the clearest turquoise Caribbean sea with no rocks around for a perfect swim, only 10 steps away from your doorstep. This beach home is perfect for family reunions or a private de luxe event such as a wedding.
There are three main Tulum neighborhoods: Tulum Beach, Aldea Zama and Tulum Town (AKA Downtown Tulum or Tulum Pueblo). Downtown is further subdivided into La Veleta, Villas Tulum and Colonia Huracanes, which you'll see on the Tulum map.