Looking for some amazing luxury villas Tulum to rent for your next holiday? Haute Retreats just added 8 amazing luxury villas for your stay.
In the last few years, Tulum has become one of the most sought-after vacation destinations in North America, for property investors and travellers alike. Drawn in by its incredible white-sand beaches, warm, turquoise water, luxury villas Tulum and wellbeing ethic, Tulum is very much a firm favourite with yogis, wellness travellers and those looking for a relaxing vacation with family or friends.
Tulum has many breathtaking beachside luxury homes perfect when you're travelling as a group of friends or a large family. Villas in Tulum are generally spacious, beautifully designed and decorated in that unique boho-chic style Tulum is known for.
Each villa normally comes with private suites, a kitchen, a private pool and some even come with a personal chef and housekeeper.
WHY RENT A VILLA IN TULUM?
There are many pros and cons to renting a luxury villa in Tulum and to all accommodation for that matter. But there are some of the reasons why you should consider it.
If you're traveling as a large family or group it's much more cost-effective to rent an entire villa than splurging on individual rooms in a hotel.
Renting a villa means that the entire space is yours. You have a private pool, private kitchen and living areas which you just don't get at a hotel. You have your own space to share with your loved ones.
Many of the villas come with additional services such as housekeepers, chefs and even yoga teachers so you can fully get the most out of your stay
Parking is included in a villa so you don't have to worry about where to park overnight if you decide to rent a car.
This 4-bedroom beachfront villa will submerge you in a boho-chic, Caribbean utopia, where you can kick off your shoes and dip your toes in the soft sand of Soliman Bay, Riviera Maya. 
Casa Aquamarine welcomes guests to a tastefully designed bohemian ambiance defined by the use of chukum, a soft resin obtained from a local tree and a hallmark of high-end architecture in the region. The villa has a plunge pool and an oceanfront terrace, steps away from a private beach area adorned with palm trees, sunbeds, a pergola, and a BBQ area.
Located in the Boca Paila section of the Sian Kaan Reserve, South of Tulum, a UNESCO World Heritage Site, luxurious Casa Maya Ka'an is situated on one of the most pristine and beautiful beaches in the area. Casa Maya Ka'an is exquisitely designed for groups of families and friends to get away and have an relaxing vacation. This home was created for those who expect the best in quality, but ask for the beauty and tranquility of the undisturbed Caribbean.
Besides an impeccable beach, Casa Maya Ka'an also has the distinct advantage of direct access to Caapechen Lagoon. Sian Kaan offers world class saltwater fishing including bonefish, tarpon and permit.
Sitting at the famous and secluded Tankah Bay, Bella Vita blends classic Spanish architecture with modern Caribbean vibes. This hacienda-style residence lets you immerse in astounding tropical sceneries and spending some well-deserved relaxing time while still being just a stone's throw away from Tulum.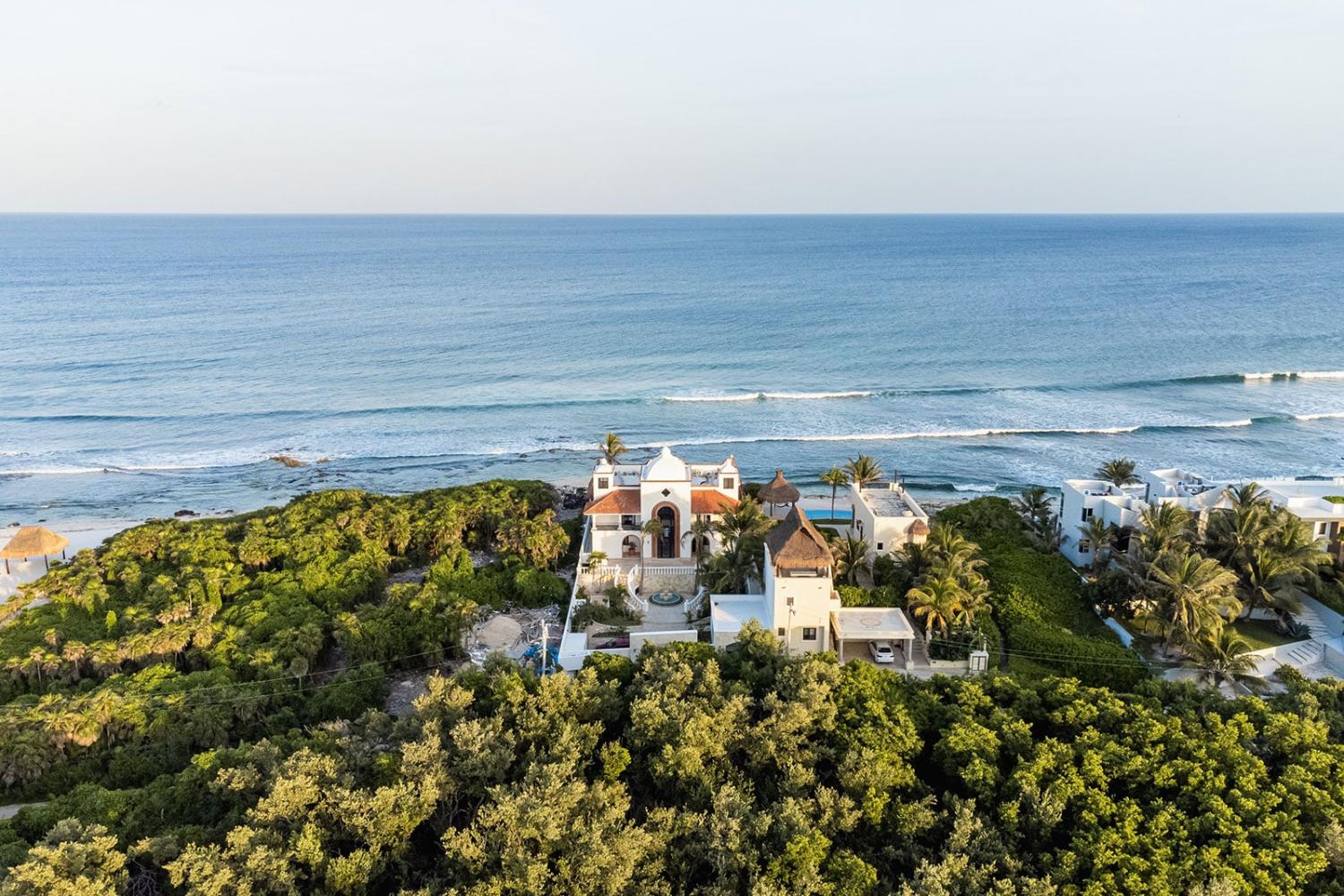 AMAITE
Villa Amaite is a brand-new luxury private villa in Soliman Bay, Riviera Maya. 
The wooden entrance walkway, which dictates the tropical architecture, leads guests zigzagging into a gem where palapa roofs and minimalist décor express its Caribbean spirit. The Villa had a major renovation performed by a very well known architect and interior designer firms completed in 2021.
Villa Amaite is divided into two buildings, the main house and the casita, and can accommodate up to 20 guests. The main villa can comfortably sleep 12 guests in five suites. Each of them is equipped with air conditioning, gorgeous stone-fitted bathrooms, and stunning ocean views. The suites are crafted for sensory rest, with clean lines, local materials, and tasteful design applied to every detail. Also, the sea-facing balconies are ideal to spend long and laid-back afternoons.
Casa Yardena is a luxury beachfront where you can choose if you want to take a swim in the 20′ x 45′ swimming pool, or go snorkeling in the beautiful aquamarine waters of the bay, what is most satisfying is that you could relax afterwards under the palapas in our hammocks by the beach or on the lounge chairs by the pool. Located in beautiful Tulum, Riviera Maya.
When it is lunchtime, our chef could prepare a gourmet meal or even a BBQ on our outside kitchenette charcoal grill; it's located by the pool so that you don't miss out on the beautiful sun.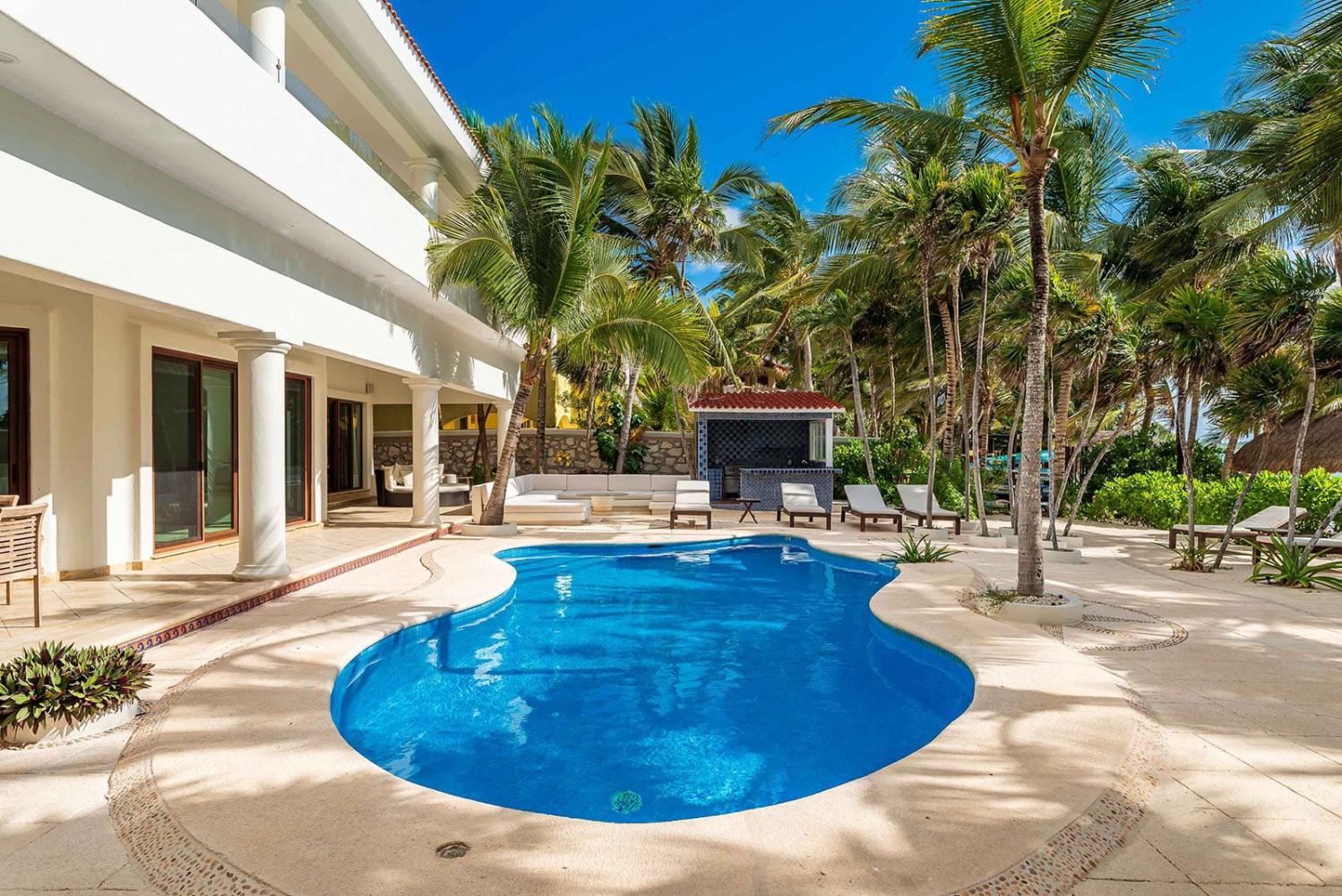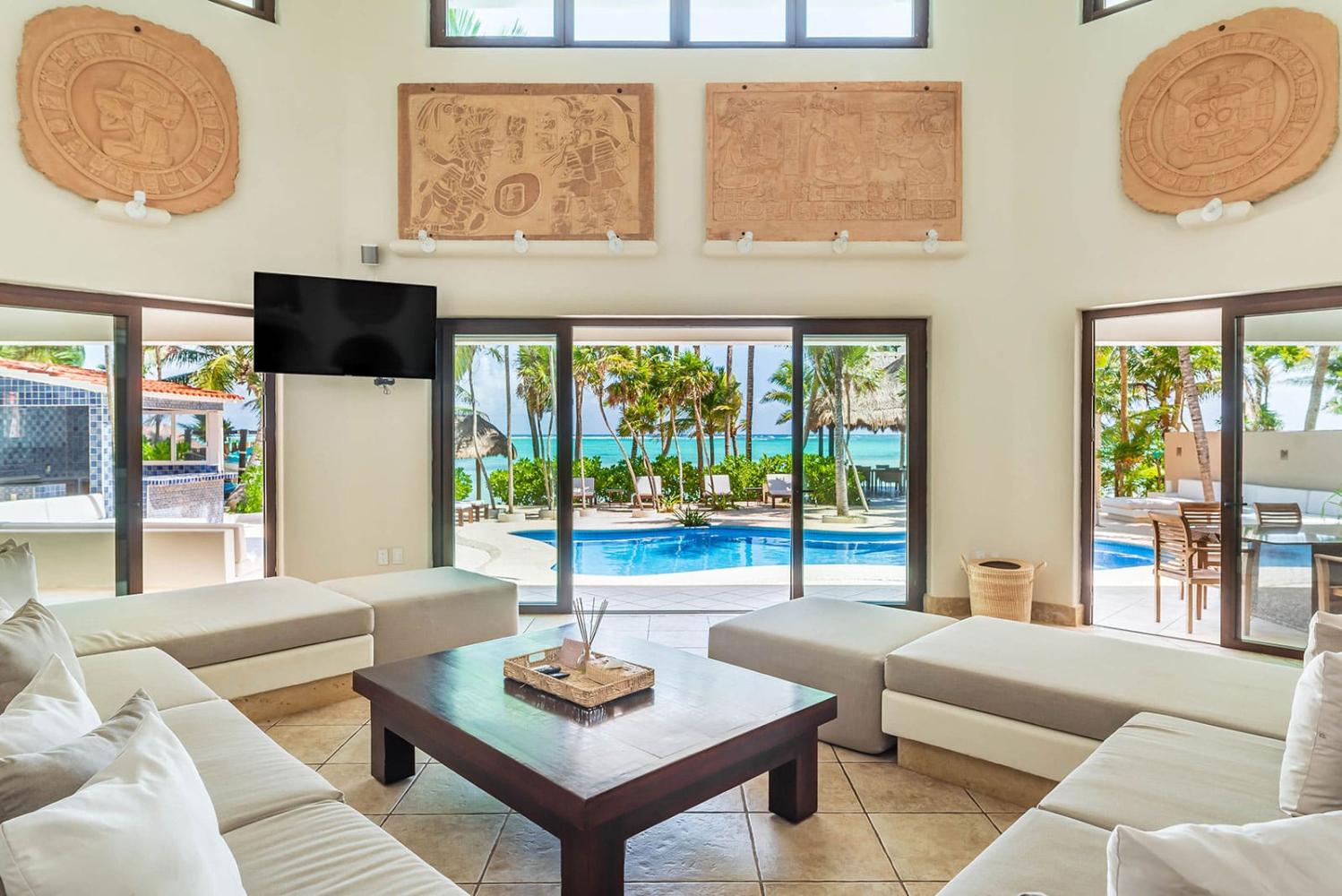 Villa Na'iik is simply stunning. In its privacy, originality, attention to detail and quality throughout, it is the epitome of luxury. And best of all, you will enjoy world class full service in the middle of the jungle; your own hidden eco-sanctuary without a neighbor in sight. A leafy estate nestled between the Caribbean Sea and a Mayan lagoon where you can dream and play to your heart's content, located near Tulum, Riviera Maya. With the warm wind in your hair and a cool drink in your hand, you will revel in the exclusive haven we've named Na'iik, the Mayan word for House of Air.
Casa Ganesh is not only your getaway into a white-sand landscape to die for, it is a base to explore Tulum at its best. Walk out of your beachfront residence and step into a stunning scene.  This chic tropical retreat is the private hideout of Casa Ganesh Hotel, located within walking distance of some of the trendiest spots in town. Revel in the Mexican sunshine, relax by the ocean, or go out to explore world-famous restaurants and nightlife, right at your doorstep.
Outdoors, the property features a plunge pool and sunbeds as a prelude to a breathtaking beach that goes for miles. Inside, textures of wood and stone bring the lush surroundings into the palapa-style retreat. Chill on oversized pillows in the open-plan living area, whip up dinner in the fully-equipped kitchen, or plan the next day's adventures with friends and family around the 8-person dining table.
Villa Blanca is an appeal to unwind and fall into the rhythm of the sea. The residence is steps away from the shore and has a well-kept private beach, where you can lounge in the sun beds and, if you're one to wake up early, enjoy mesmerizing dawns. The plunge pool and alfresco dining table on the palm-thatched terrace complete an outdoor area that will compel you to spend your time outside.
Tips for Visiting Tulum and Renting a Luxury Villa
Haute Retreats villas offer security guard.
Try to avoid the months of May-until the end of October if you're planning to spend a lot of time on the beach. Although these months might be the best for finding deals- the sargassum is at its worst. Luckily there are still many other cenotes and swimming spots to explore in the area.
If you're planning on moving around a lot in the area, I'd highly recommend renting a car. This will give you the flexibility to come and go as you wish and most luxury villas in Tulum have parking spaces included so it's never an issue to find parking overnight.