A perfect week in Los Cabos
Considered one of the best destinations to visit, Los Cabos is a place that offers plenty of exciting activities. Cabo has so many places to see and experiences that you can enjoy and be enjoyed by people of all ages.
You can experience water sports like snorkelling, sailing, scuba diving, swimming, kayaking, windsurfing, parasailing, jet skiing, kite boarding, and a lot more. You can also enjoy fun-filled water parks like Playa del Carmen Water Park or the Sea Life Park. If you like to spend your vacation in a seaside resort, then come to Cabo San Lucas, because this is the ideal place for you.
Best time to go: All year round, depending on your vibe. The less crowds and best to enjoy the spectacular weather are May to June, but you can also have fun over October and November if you get in early. If you're down for something different, whale watching is prime from December to March.
Day One: Arrival
Once you arrive at your villa, you will be welcomed with fresh beverages, margarita, chips and salsa. Your local Host will welcome you and give you a tour of the villa while you settle into your home away from home and start to fall into Los Cabos atmosphere.
Day Two: Snorkelling and Camel Ride Safari
In the morning-
Santa Maria Beach, a horseshoe-shaped stretch of sand is nestled between cactus-covered cliffs, is a protected area, a secluded beach considered a haven for marine life. It is great to snorkel and explore the calm, clear waters filled with tropical fish.
Lounge on the soft golden sand, sunbathe, or swim in the sea. The beach is relatively remote and offers little shade, so we will be happy to arrange a picnic ready lunch for you.
In the afternoon-
You can chill out by the pool and relax at the villa or you can have a camel ride safari (Tierra Sagrada). It is great to have it as the last trip of the day around 3 pm.
If you're looking for a different and down-to-earth means of enjoying the spectacular landscape of Cabo San Lucas and the surrounding Baja California Sur region, camel riding is the perfect choice for you.
Ride along the Cabo desert and beside the Pacific Ocean at our new ranch, "Tierra Sagrada" to enjoy the sights, the refreshing sea breeze, and the crashing waves on this unique eco-tour.
Day Three: Relax or schedule a Tee Time and for sail past spectacular seaside sights at sunset
Dedicate this day to relax at one of Los Cabos' incredible spas, such as Somma Wine Spa or Spa Marquis, indulging in a facial, a massage, or an entire day of treatments. Or schedule a tee time at one of the area's famous golf courses, such as Diamante or Cabo del Sol Golf Course, where you can enjoy beautiful ocean views on the green.
Four of the 15 currently operating golf course in Los Cabos, as of 2018 are ranked among the World's 100 Greatest Golf Courses by Golf Digest (Diamante Dunes Course, Quivira, Cabo del Sol Ocean Course, and Querencia). Querencia is private, but Cabo del Sol is open to the public, and guests at certain area resorts have access to coveted tee times at Diamante and Quivira.
In the late afternoon sail past spectacular seaside sights at sunset on a romantic cruise from Los Cabos. Sip drinks from the open bar and nibble on light bites from a gourmet menu as you cruise past iconic landmarks like the Los Cabos Arch and Lover's Beach. Watch as the sun sinks into the crystalline water and enjoy the luxurious facilities of your vessel.
Day Four -Whale Watching Cruise
Considered one of the best tourist spots to observe humpback whales, when in Los Cabos you should not miss this memorable experience. The season starts in December and ends the first days of April. Is an activity perfect with family and friends, because everybody adore these whales for their immense size and their incredible white fins. It is a great experience to see them in full color. An incredible adventure that you will enjoy a lot.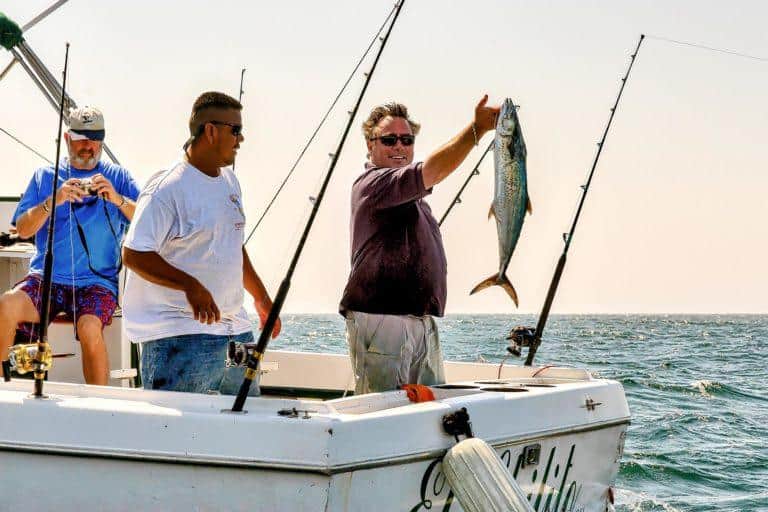 Day Five – Go Fishing
Los Cabos has been acclaimed as one of the world's sport fishing spots for half a century, and indeed the initial popularity of Los Cabos as a tourist destination was based in large part on its reputation for spectacular black and blue marlin fishing.
The world's richest fishing tournament, Bisbee's Black & Blue—aka "The Super Bowl of Sport Fishing" —takes place in October, but visiting anglers can get their hooks into serious game and billfish on a year-round basis, from black, blue, and striped marlin to tuna and sailfish.
Day Six – Explore the Beach of Love
Los Cabos and in general the state of Baja California offers many beautiful beaches, but among them of the most spectacular one is The Beach of Love.
When you visit Los Cabos, do not forget the island paradise of love.
It really is an earthly jewel and it is an underwater adventure. It is located a few meters from the Srch near the Sea of Cortez. In this beach of love and crystalline waters, you can distinguish large infinity of goldfish in an unimaginable way. Within walking distance, you will find colonies of sea lions that will surprise you and admire you in its maximum splendor. You can practice scuba diving and sunbathing on its white sands like talcum powder.
You can also add other sights and activities you should not miss during your stay at Los Cabos like:
Explore Original Artwork in San Jose del Cabo's Historic Gallery District
Art Walk is part of the tradition of Los Cabos and from November through June, usually, in San José del Cabo there is a premier cultural event that welcomes visitors to stroll its charming, cobblestone-sudded streets.  It's the premier cultural event in Los Cabos, with the neighborhood's many gallery owners staying open late (until 9 p.m.) to chat with visitors, and street artists and mariachis showcasing their talents amid the crowds that throng the downtown area.
Experience the Magic of Todos Santos
Since 2001, Mexico's Secretariat of Tourism started to promote places of great cultural or historical significance. Todo Santos evokes magic since it has been home to a thriving artists' colony since the 198os, with painters in particular drawn by the mystical quality of its light—it was no surprise when it was the first place on the Baja California peninsula to receive the official designation. Todo Santos is located less than an hour's drive from Cabo San Lucas, also a great surfers destination.  A wealthy sugar mill town during its heyday in the 19th century, where today you can delight yourself from charming B&Bs and boutique shops to eclectic eateries and the colorful galleries now housed in its historic brick buildings.
Tequila and Mezcal Tasting
Almost anywhere that serves alcohol will have a solid selection of Tequila in Los Cabos.
There are places that stand out more than others where to enjoy a selection of top tequila like the Slim's Elbow Room, claimed to be the world's smallest bar, and considering tiny hole-in-the-wall space they have to work with, they could well be right! Only four patrons at a time are allowed into the bar to sip and sample, and customers are encouraged to leave a dollar (of any currency) attached to the wall, and you'll be impressed with where they've managed to fit them all!
For a little extra room, head around to the Tequila Shark bar on the waterfront of Cabo San Lucas' marina, where the great view and outstanding menu is paired with a tequila menu that's as expansive as the Pacific Ocean. 
If you want to experience a more high-end tequila experience, look no further than the bar at the Tesoro rooftop Skypool, overlooking the marina.
If you like to enjoy the best tacos and Mezcal you should head to San Jose del Cabo.
La Lupita serves up some of the best tacos and Mezcal. These drinks can taste quite different if you're expecting something tequila-ish, but the diversity of flavours on offer will let you find something you're a fan of, no matter what you prefer. For a more diverse dining experience you should try La Damajuana Mezcal Boutique where you can also taste a paella and regional cheeses, as well as seasonal Flamenco dancing, and a very well-stocked bar!
Book one of our selection of Luxury Villas in Los Cabos
How to reach Los Cabos:
There are two airports in Los Cabos: Cabo San Lucas airport or Cabo San Lucas International Airport, and the Los Cabos International Airport. The CaboSan Lucas airport is a small airfield that is primarily private jets and shuttles.
We also partner with great Jet companies and we can arrange a private jet for you and your family.