"A destination of delightful gastronomy"
A vacation to Saint Tropez wouldn't be completed without some fine dining. The iconic village offers a variety of restaurants, Michelin awarded restaurants.
Our guide includes all the best places to eat in Saint-Tropez and where to find your favourite style of cuisine.
Saint Tropez is a city with two facets. During the day, it takes on the features of a peaceful and picturesque village with its typical architecture and soothing seafronts. In the evening, Saint Tropez becomes this trendy destination where the nightlife from the four corners of the globe meets.
Considered one of the most beautiful luxury holiday destinations where to go. Saint Tropez is a coastal town with amazing surroundings full of charme.
Follow our guide below to discover the best restaurants in Saint Tropez.
The Côte d'Azur is one of the most beautiful luxury holiday destinations to get away from it all. This fabulous coastal town and its surroundings are full of treasures. Follow our guide to discover the best restaurants in Saint Tropez
LA VAGUE d'OR
Located within the pine-scented Cheval Blanc St-Tropez, Michelin three-star La Vague d'Or offers a cuisine as dazzling as the sunshine that warms its spacious terrace. Rouen-born chef Arnaud Donckele, who trained under Michel Guérard and Alain Ducasse, is the man at the helm. Acclaimed for his original pairings, rare, regional ingredients and seemingly limitless creativity, Donckele's menus include 'Au Fil du Temps', championing timeless classics, and 'Balade Epicurienne', a celebration of rarefied indulgences, while his à la carte offers the likes of turbot cooked in salt, seaweed and lime peels, and young rabbit with absinthe and country bacon.
Our favourites:
Rack of lamb, smoked eggplant caviar and potato terrine

Turbot filet, shellfish sauce with ginger and season vegetables in taralli crust
THE PATIO

© Valentina Sommariva / Le Patio
With its Art Deco atmosphere, rich colours and flamboyant touches of gold, Le Patio is a resolutely chic establishment. You can also sit by the swimming pool in an idyllic atmosphere in the heart of the garden of Hotel Le Yaca. Savour the chef's warm Italian cuisine, made with products directly imported from La Botte. It is considered one of the most beautiful addresses in the Michelin Guide.
Must-order:
Turbot filet, shellfish sauce with ginger and season vegetables in taralli crust
Rack of lamb, smoked eggplant caviar and potato terrine
LA PALMERAIE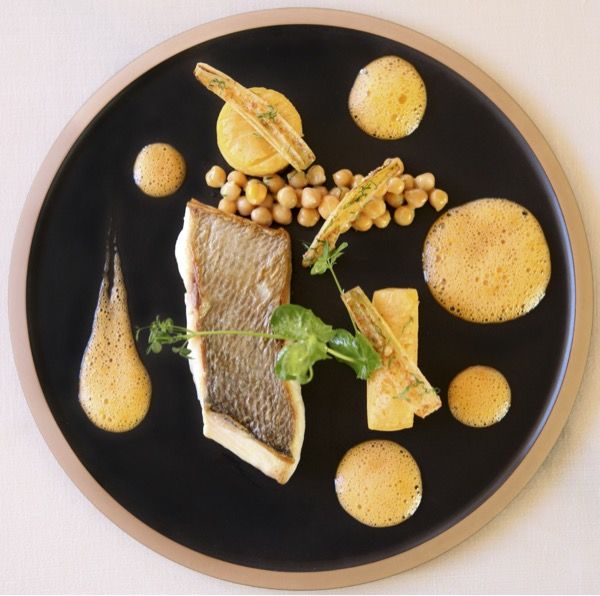 © La Palmeraie
Located at Château de Valmer in the Gulf of Saint-Tropez, the gourmet restaurant La Palmeraie offers its customers a real culinary experience in a green setting. True to its values, the restaurant has its own organic vegetable garden, to offer fresh, local products all year round. Provençal cuisine has been revisited with passion by chef Jimmy Coutel, who was Michelin-starred in 2017. Accompanying with the AOC Côtes de Provence rosé wine, produced in the château's domain.
Must order:
Risotto Verde with summer truffles

Filet of Charolais beef and stuffed carrots from the garden
L'ARBRE au SOLEIL, LE LAVANDOU
Chef Yorann Vandriessche offers a creative take on traditional French and Mediterranean cuisine at this Michelin-starred restaurant in Le Lavandou. Located in the local marina, overlooking the sea and the yachts.
From the wet cobbled streets of Roubaix to the sunshine of the Lavandou, Yorann Vandriessche continues to find inspiration in high-quality produce with an avowed weakness for fish and seafood (from Brittany). His food is rich in verve and creativity
His cuisine is full of French classic delicacies such as foie gras, truffles, scallops as well as super high-quality meat cuts coming all the way from Argentina, USA and Australia.
Must Order:
Grosses langoustines rôties, bouillon de carapaces
Homard cuit au beurre, buratta truffée et vinaigrette aux agrumes
L'ACACIA
Creative Mediterranean-style cuisine in a truly exceptional ambiance at L'Acacia you will experience refined food enjoying the most spectacular views over the beaches of Pampelonne.
Flying the flag of French traditions, Chef Alain LaMaision's refined, light, modern and precise cuisine pays tribute to nature and local producers. His dishes combine major French classics with Mediterranean creations overflowing with flavours and colours. New dishes are constantly added to the menu according to the season, with the head wine waiter to expertly marry every dish with his prestigious and astonishing wine list featuring over 400 wines and champagnes from France and the world over. "L'Acacia" also offers 3 set menus featuring the Chef's suggestions of the day.
Must Order:
Quercy rack of lamb à la plancha, saddle stuffed with Colonnata bacon, travel with roast monkfish with pancetta in paella sauce
During your St Tropez holidays, visit one or more of these exceptional restaurants.
With Haute Retreats you can book one of a curated St Tropez Villa Rentals .
Contact us we are delighted to assist you with your luxury travel.