Rent a Tulum villa with private chef where you'll enjoy 5-star dining throughout your vacation. Simply sit back and relax as delicious meals are prepared for you and your guests using the freshest local ingredients.
Just imagine the luxury to enjoy your breakfast outside your room in the morning or dinner. Having a private chef that will prepare your meals while on vacation will make it your stay even better and your vacation more relaxing.
We rounded up 7 Tulum villas with private chef: 
Casa Xixim
Featured on Netflix's The World's Most Amazing Vacation Rentals (Season 2 Episode "Eco Friendly"), Casa Xixim was designed for sustainable vacationing.
Embracing a net-neutral approach, the property utilizes solar power, green roofs, and rainwater collection. This eco-luxe four-bedroom beachfront villa in Soliman Bay provides an environmentally friendly travel experience for eco-conscious travelers.
the villa combines top-drawer amenities, such as a seaside swimming pool, a freshly raked beach each morning, two private chefs, and an outdoor grill, with an experience crafted for low environmental impact. Solar panels complement the home's electricity needs and green terraces harvest rainwater for domestic use.
Puerta del Sol
Split your time between the swimming pool, the beach swings, and the ocean view pool table at this dashing 4-bedroom beachfront villa in Tanka Bay, a tranquil nature reserve ten minutes north of Tulum.
Villa Mariola
Villa Mariola is a luxury villa nestled in the tranquil Soliman Bay, a 5 bedroom beachfront villa that has everything you dreamed when you pictures the perfect Caribbean vacation. A spectacular home where to enjoy blissful days in one of the most secluded places in the Riviera Maya.
Casa Kevali
Welcome to Casa Kevali, an amazing new beachfront villa in Soliman Bay, Riviera Maya, named after Kevala Jñana meaning having supreme knowledge according to the ancient Indian religion, Jainism. Jains practice nonviolence towards every living being and Kevali represents a path towards peace.
The luxurious Casa Kevali includes a lovely live-in staff who live on-premises in a separate area of the estate. They are available to help you with anything you may need during your stay. Included in your stay is also the full time service of a private gourmet Chef that can whip up any meals desired while you relax and enjoy the comfort of your home away from home.
Hacienda Caracol
Hacienda Caracol is an expansive 10-bedroom, 11-bathroom villa, shaped by architecture that combines Spanish and Mexican design, with high ceilings, marble floors, and rich handcrafted furniture located on Soliman Bay.
Lol-Beh
Villa Lol-Beh is an impressive 12-bedroom, 13-bathroom villa located in Tulum, offering incredible ocean and jungle views, and comes with a full-service staff available 24/7. Lol-Beh's architecture is a mix of Spanish and Mexican design, with high ceilings, marble floors, and rich handcrafted furniture.
There are six bedrooms located inside Villa Lol-Beh, including a master suite with a Jacuzzi and views of Soliman Bay.
Casa Ixchel
Casa Ixchel is a wonderful villa located between the Caribbean Sea and the lush jungle of Tulum, a truly impressive and breathtaking estate.
With 6 spacious suites, the villa boasts a pool, Jacuzzi, gym, massage area, spacious indoor & outdoor lounges, state-of-the-art kitchen, TV room and perfectly manicured garden, as well as a thatch-roofed dining and lounge area right on the white sand shores of Tulum, Mexico.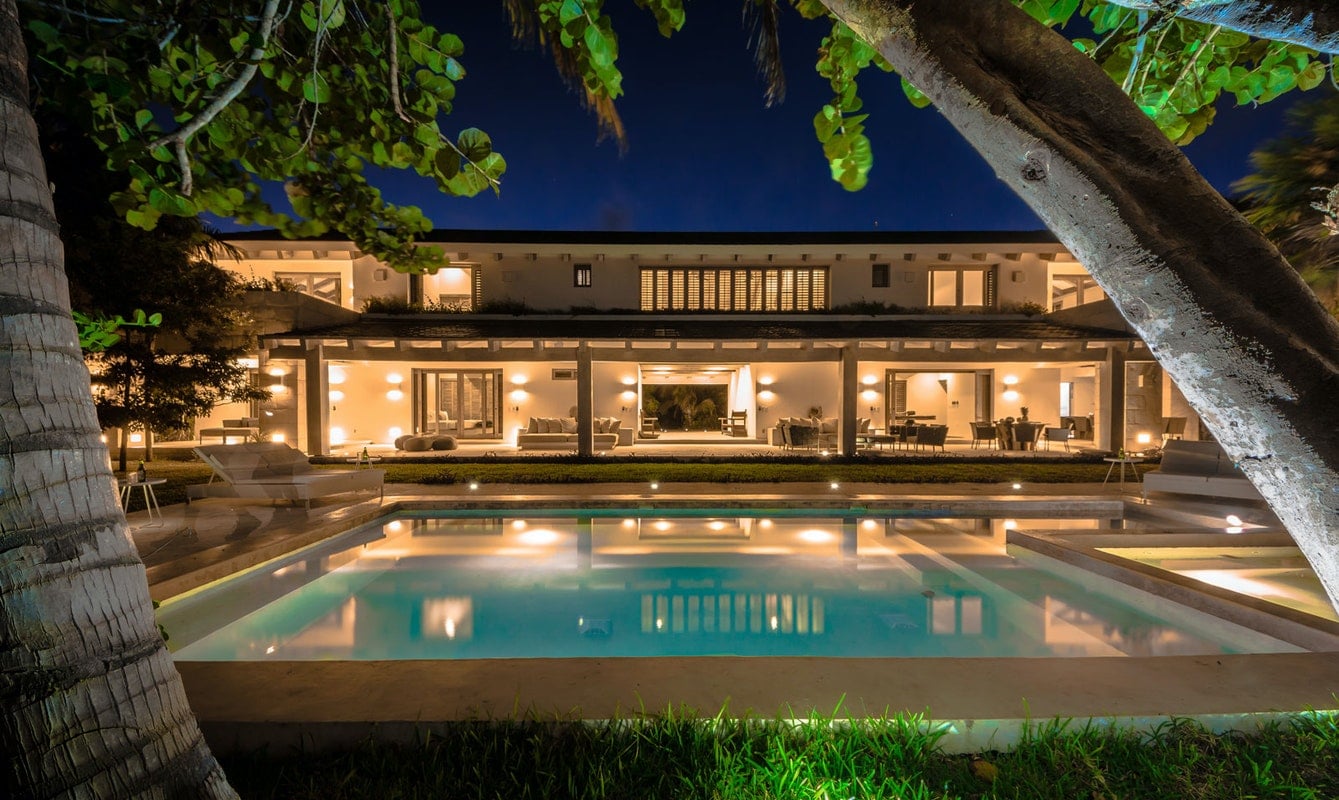 Contact Haute Retreats or email your Trip Designer to start planning winter vacations for this year and the future. Beloved destinations like the ones listed here are booking up quickly, due to increased re-booking policies. Our team can match you with the accommodations and activities that are right for you and provide information on coronavirus travel safety, destinations that are open to travel, Covid-19 hotel policies, transportation options, private villas and charters and more.