Amalfi Coast is the southern Italy's famous coastline runs from Punta Campanella to Salerno and includes the picturesque hilltop towns of Positano, Amalfi and Ravello. Famous for its narrow, winding coastal road where you will discover hidden treasures of terraced towns and villages along the way.
The coastal towns of the Campania region are physically unspoilt, and they retain an evergreen appeal despite the inevitable tour groups. Avoid high summer, when visitors arrive in peak numbers, and a trip here will be a scenic, artistic and culinary delight.
For more inspiration, check out our Luxury Guide to the best way to enjoy the Amalfi Coast.
An intriguing mix of sophistication and simplicity, the Amalfi Coast is for sure a place you should visit at least once and won't leave it. A mere seagull's spit from the super yachts, chauffeur-driven Mercedes-Benz and five-star hotels, beautiful luxury villas perched on the hills. Around precariously stacked hill villages, farmers still cultivate small plots of steeply terraced land, and their wives make cheese; down on the coast, tiny fishing communities make a living from the sea.
WHEN TO GO
If you want to enjoy the Amalfi Coast at its best it's all about good timing. There are months when restaurants and attractions are chiuso (closed) like in December and January. There are months where the narrow coastal roads get clogged, soaring temperatures and the occasional frayed temper, so it's best to avoid July and August. Spring and autumn, though, are wonderful in this region – spring for its swathes of bright wildflowers and autumn for warm seas and bountiful seasonal produce.
HOW TO GET THERE
Ferry or Boat:
No matter how you arrive to the Amalfi Coast, the journey is always scenic. Depending on the time of year, it's possible to take fast ferries like Alilauro from Napoli to the main port of Amalfi. The two-to-three-hour journeys are not direct, and many make stops in destinations like Capri or Sorrento before reaching Amalfi's port. Additionally, boats like the Travelmar leave from Salerno and stop at most of Amalfi's largest coastal municipalities. Or we can arrange private boats that will also give you a scenic tour of the coast.
Train or Bus:
Arriving in Naples by flight you can take the Freccia Rossa trains that connect Napoli Centrale to Sorrento Trenitalia most direct and efficient or you can take a bus. We also suggest to arrange a private transfer with us our professional partners will be delighted to stop on the way and have enjoy a lunch in one of the best restaurants or a break to enjoy the most beautiful views of the Amalfi Coast.
We can also arrange private jets that will land in Napoli and we will include private transfer for you and your family/friends.
Car:
For many, traveling by car is still the most romantic and independent way to get from one destination to another. You can rent a car at either international airports in Rome or Naples, or opt for something more lavish from our luxury car rental partner. Their fleet of large and small luxury vehicles will ensure you're the most stylish tourist on the road.
Book your private jet 🙂
When you book your jet charter through ONEflight International, they will set you up with the choice of helicopter or luxurious aircraft to whisk your guests off to whatever location you choose.
The choice is yours when it comes to the perfect aircraft to use for your business or private guests. With just a few questions regarding the number of guests and the type of trip you are planning, we can help you select the right travel arrangements.
Airport
The nearest airport is Naples, approximately 60km from the Amalfi coast.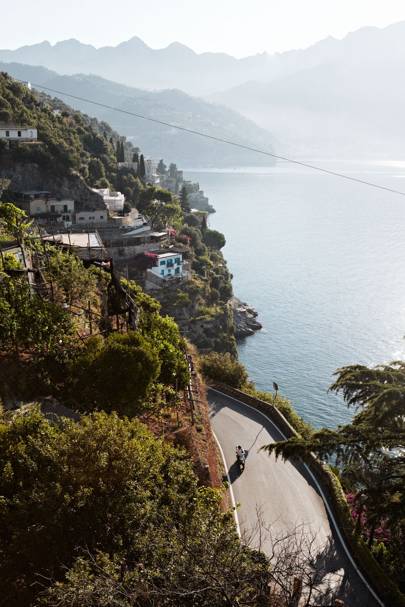 WHERE TO STAY
Consider at least a seven day vacation in the Amalfi Coast. You can choose to stay in one of our selection of luxury villas in the Amalfi Coast 
We have villas located in the different coastal gems including Sorrento, Positano, or Amalfi and Capri..so from there you will reach easily the places to visit and explore. But if you want to be more flexible we can arrange great itineraries where you can stay in 2 or 3 luxury hotels. From the unique Il San Pietro di Positano from where you can experience Positano or the Le Sireneuse. Its location, terraced higher into the seaside cliffs, leave guests feeling as if they've dived into a painting of the seaside town. The family owned establishment is a feast for the eyes, surrounded by exquisite tile work, lemon trees, and artworks. On site, you'll also find the Michelin-starred La Sponda restaurant led by Chef Gennaro Ruso, whose menu honors the culinary traditions of the region. Or in Sorrento Bellevue one of our favorite hotels where to stay. We will create a perfect tailored itinerary including the best places where to eat and things not miss arranging private excursions and activities. So you can stay 3 days in Sorrento, 2 in Positano and 1 or two in Capri for example
Sorrento
A grand dame of local tourist towns, Sorrento sits pretty on a cliff gazing out at Vesuvius, and there's a charming fishing village down below.
Positano
Of all the tumbling coastal towns in Italy, Positano has to be the most beautiful, with its surreally steep geography and colourful houses.
Capri
Sashay in the footsteps of Jackie O and Clark Gable on this most dazzling of islands: the whitewashed core of Capri town is lovely, with a path leading through terraced countryside to a Roman villa.
WHERE TO TASTE GREAT FOOD
The pinnacle of fine dinning in Positano is the Michelin-stared restaurant Zass. Chef Alois Vanlangenaeker builds artful culinary creations from fruits and vegetables grown on property and local meats and seafood caught fresh each day.Make sure you try the lemon pasta.
Da Vincenzo
The dishes in menu differ depending on what is fresh, but all maintain the best of the old-fashioned home cooking of Nonna. While there is an abundance of pasta dishes, they also have lots of gluten-free options. That is why Da Vicenzo is a perfect place to enjoy the classic Italian wine and meal.
Covo Dei Saraceni
It's a 5-start hotel, which also runs a formal restaurant on terrace upstairs and has a brasserie on its ground level. You can enjoy lots of food options here. Pizza Margherita is good, but you may also try Napolitana or Saracena. Calzon with mozzarella, artichokes, and ham is something that you shouldn't miss. For dessert, you can order lemon sorbet served in lemon shell.
Chez Black
If you are searching for a place that is near by the beach, Chez Black won't disappoint you. It's as close as you could get to dinner on the sea. Just a few steps from the main beach of Positano, it's an ideal place for those who are watching during the day. It's also a hotspot for tourists, locals, and celebrities. Its friendly and homey atmosphere would make you not like to leave. They have good gluten-free options as well.
Le Tre Sorelle, a more affordable dining option, is consistently good, and serves delicious hearty food. Lots of travelers come to grab a quick pizza, but you can also sit for hours at a table outside sipping cold white wine while indulging in something more substantial like their grilled sea bass.
Let us arrange you a private chef that will be delighted to cook some great food for you during your vacation.
How about a cooking class?
BEST SHOPPING
In the Amalfi Coast artisan workshops create and sell unique pieces of earthenware. In the town of Vietri sul Mare you will find most highly-prized ceramics where they also produce it. The town is full of little shops selling every genre of brightly coloured ceramic ware as well as schools which teach the ancient art of pottery.
If you're looking for artistic ceramics, head to Pasquale Liguori's studio.
Marco Fusco's Laboratorio Fes, in Amalfi, houses a fabulous collection of contemporary pieces.
Amalfi is famous, above all, for its handmade paper: a vast selection of which can be found in the Cartiere Amatruda.
At the Scuderie del Duca you can purchase not only paper, but also wax, ink and antique and modern prints.
Fashion
Famous for having invented the "hippy-chic" style (a sophisticated, Mediterranean version of the apparel worn by the flower power generation, with that brightly colored cotton or linen blouses, head scarves, and sarongs and flat, handmade sandals, which were inspired by the footwear first made on the island of Capri in the Amalfi Coast you will enjoy fashion shopping.
The best place to purchase a pair of made-to-measure sandals, without emptying your wallet, is Maiori, in Alfonso Dattilo's legendary shoe shop.
For a complete Positano look, pop in to the Bottega di Brunella where, since the 1960's, Vito and Brunella have been creating beautiful designs for men, women and children using the finest linen, chenille and wool. Antica Sartoria located on Positano's Spiaggia Grande is where to shop for the best bathing costume.
THINGS NOT TO MISS
If you visit Ravello and don't spend an hour or two roaming through Villa Cimbrone's gardens, you're essentially missing the point. From Ravellos central piazza, signs will lead you to the storied gardens, which are part of an 11th century palatial compound. Famous writers such as Gore Vidal, who traveled extensively, have visited the gardens and proclaimed the spot to be the most beautiful place ever visited.
Speaking of beauty, one of Italy's most stunning hiking trails is hemmed into the hills above the Amalfi Coast. A five-hour hike that snakes high above the coast through small villages you shouldn't miss the Path of the Gods. You'll encounter valleys with farmers and sheepherders selling their products, and beautiful sea views. Pack comfortable shoes and rain gear for late autumn and winter weather treks.