Last updated on November 19th, 2023 at 11:33 pm
January, the first month of the year, brings with it a renewed sense of exploration and adventure. After the hullabaloo of the festive season, it's time to kickstart your travel resolutions and discover some of the world's most mesmerizing destinations. Whether you're a sun seeker looking to escape the winter chill or an adrenaline junkie yearning for some snow-capped excitement, there's a corner of the globe just waiting for you. Here's a curated list of the best places to travel in January, perfect for sating your wanderlust and beginning the year with unforgettable experiences.
Punta Cana, Dominican Republic
Unleash Your Inner Beach Bum
Punta Cana, a tropical paradise nestled in the heart of the Dominican Republic, offers an idyllic respite from the winter blues. Averaging a pleasant 28°C in January, it's the perfect place to bask in the sun while the rest of the world shivers.
An Adventure-filled Holiday
Punta Cana is not just about its beaches. You can explore the Indigenous Eyes Ecological Park, embark on a zipline tour, or even try your hand at windsurfing. The region is alive with activities for every kind of traveler.
A Gastronomic Delight
The local food scene in Punta Cana is equally enticing. From seafood delicacies to traditional creole cuisine, the array of culinary delights on offer will make your taste buds dance. Don't miss the chance to sample mouthwatering dishes at La Yola or Playa Blanca.
A Luxurious Stay
Punta Cana is home to some of the most villas in the Caribbean. Luxury Villas like Villa Tartaruga or Villa Carey or Arrecife Royale where to spend your holidays in January.
Related 7 Villas in Punta Cana with Private Chef
Barbados, Caribbean
A Slice of Caribbean Paradise
January is one of the best times to visit Barbados. The island's pleasant weather and laid-back vibes make it a fantastic winter escape. With temperatures hovering around 29°C, you can enjoy sun-filled days without the overwhelming heat.
A Nature Lover's Haven
Nicknamed the "Nature Island," Barbados boasts a diverse natural landscape. Hike through the scenic Welchman Hall Gully, immerse yourself in the vibrant marine life at Carlisle Bay Marine Park, or simply relax on the pristine beaches.
A Cultural Potpourri
Barbados' rich culture and history add to its allure. Visit the Barbados Museum and Historical Society to dive into the island's past, or explore the vibrant nightlife in the St. Lawrence Gap.
Luxury Villas For Rent
From opulent resorts to charming eco-lodges, Barbados offers a range of accommodations to suit all tastes. Luxury Villas like Villa Kiko will create the most memorable stay for you and your family and friends.
Related 8 Barbados Villas with Private Chef
Tulum, Mexico
A Bohemian Retreat
Tulum, a picturesque town on Mexico's Yucatán Peninsula, is a go-to destination for travelers seeking a laid-back, bohemian vibe. January, with its comfortable temperatures and relatively low rainfall, is an ideal time to visit.
A Blend of Nature and History
Tulum offers an enticing mix of natural beauty and historical landmarks. Explore the Tulum Ruins, a well-preserved Maya site, or take a dip in the Gran Cenote, a natural sinkhole known for its clear turquoise waters.
A Foodie's Paradise
Tulum's gastronomic scene is a fusion of Mayan and international cuisine. From street food stalls to high-end restaurants, the town offers a culinary experience like no other. Don't miss out on the local delicacies at Hartwood or Taqueria Honorio.
Boutique Stays
Tulum is home to an array of boutique hotels that offer a unique and intimate experience. Nest Tulum, for instance, is a chic beachfront property with a private beach area and stylish, eco-friendly rooms.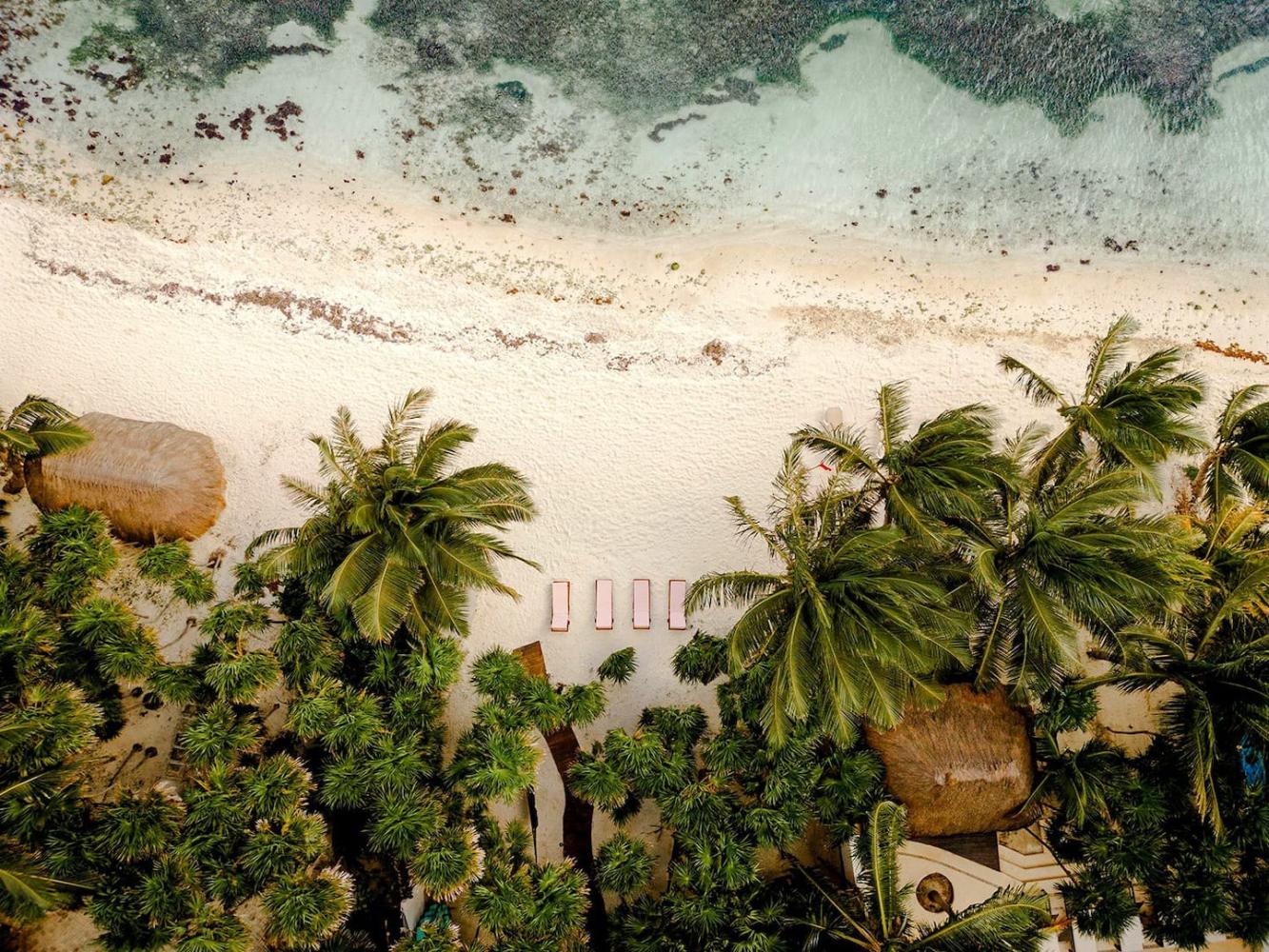 Villa Azumaya, Tulum, Haute Retreats
Related How to Decide where to Stay in Tulum: Beach or Town?
Dubai, United Arab Emirates
A Blend of Modernity and Tradition
Dubai, a city of superlatives, is a fantastic destination to visit in January. With temperatures averaging around 24°C, it's a great time to explore the city's architectural wonders, luxurious hotels, and bustling markets.
A Shopping Paradise
Dubai is a shopper's paradise. Visit the Dubai Mall, the largest shopping mall in the world, or explore the traditional markets, known as souks, for a more authentic shopping experience.
Related 5 New Beachfront Luxury Villas on Palm Jumeirah Dubai
A Culinary Journey
Dubai's culinary scene is a melting pot of cultures. From traditional Emirati dishes to international cuisine, the city offers a gastronomic experience like no other. Don't miss out on the Friday brunches, a Dubai institution.
Luxury Apartments and Villas
Dubai is home to some of the most luxurious hotels in the world. There are luxury homes for rent where you can stay located within the Palm Jumeirah.
The Dolomites, Italy
Skiing in the Heart of Europe
The Dolomites offer a cozy alternative to the glitz and glamour of the Alps' popular ski towns. January is an ideal time to visit, as flights to Italy are much cheaper than during other winter months. The town of Cortina d'Ampezzo, located in the valley of the Boite River, is part of the Dolomiti Superski resort, connecting visitors to Europe's largest network of cross-country trails.
Baja California, Mexico
A Destination for Nature Lovers
Baja California, a Mexican state located on the Baja California Peninsula, is a fantastic destination to visit in January. With its mild weather and abundant wildlife, it's a great place for nature lovers and outdoor enthusiasts.
Whale Watching
Baja California is famous for its whale watching opportunities. Visit the San Ignacio Lagoon, one of the best places in the world to see gray whales in their natural habitat.
A Food and Wine Destination
Baja California is also known for its food and wine. Visit the Guadalupe Valley, Mexico's premier wine region, or enjoy the region's seafood delicacies at La Justina.
Luxury Accommodations
From luxury resorts to amazing beachfront villas, Baja California offers a range of accommodations.Villa La Datcha offers a luxury stay where you will have everything included
Related Los Cabos: Your Gateway to Breathtaking Beaches
Park City, Utah
America's Winter Sports Destination
Park City is undeniably one of the top winter sports destinations in the United States. The city offers ample opportunities for skiing, snowmobiling, and dog sledding. After a day in the snow, you can relax at a saloon or shop for the perfect cowboy hat.
Sri Lanka
An Island Nation Full of Surprises
Sri Lanka, a jewel of the Indian Ocean, is a fantastic destination to visit in January. With clear blue skies and temperatures in the 70s and 80s, it's a great time to explore the island's diverse landscapes and vibrant culture.
A Wildlife Enthusiast's Dream
Sri Lanka is a haven for wildlife enthusiasts. Visit Udawalawe National Park to see herds of elephants, or head to Yala National Park, home to the world's highest concentration of leopards.
A Taste of Sri Lankan Cuisine
Sri Lankan cuisine is a delightful mix of flavors, with influences from India, the Arab world, and the West. Sample traditional dishes like kottu roti and hoppers, or try the fresh seafood at beachside restaurants.
Private Villas
Sri Lanka offers a range of luxury resorts that make for a comfortable and relaxing stay. Ani Retreat Sri Lanka, for example, offers spacious rooms, beachfront dining, and a range of wellness activities.
Turks and Caicos
The Ultimate Beach Getaway
When it comes to mesmerizing beaches and crystal-clear waters, few places can rival Turks and Caicos. January, with its mild weather and low rainfall, is one of the best times to visit this Caribbean archipelago.
A Marine Wonderland
Turks and Caicos is a haven for underwater enthusiasts. From snorkeling in the Bight Reef to diving in the Columbus Landfall Marine National Park, there are countless opportunities to explore the island's vibrant marine life.
A Taste of Island Life
The local cuisine of Turks and Caicos is a delectable blend of Caribbean flavors with a unique island twist. Savor the flavors of the islands at local eateries like Da Conch Shack or Bugaloos.
From private villas to luxury resorts, Turks and Caicos offers a wide range of accommodations. The Shore Club Turks and Caicos, for example, is a luxury resort offering ocean-view rooms, a private beach area, and world-class dining that offers Luxury Villas.